A 20-year visa for the purchase of real estate in Thailand
You want to buy a property in Thailand? Contact us!
Buy a house in Thailand
The idea of ​​obtaining a visa for a period of 20 years by making a real estate purchase in Thailand may leave some skeptics. Nevertheless, a promoter has set up, and a number of buyers already benefit …
This recognized promoter has set up a partnership with an organization wholly owned by the Thai Tourist Office (TAT), under the supervision of the Ministry of Tourism and Sports.
Thailand aims to promote itself to a wealthy international clientele by offering many services to make life easier for its members during their visits to the Kingdom, including a 5-year "super tourist" visa renewable 4 times, ie 20 years. .
This program and obtaining this very long-term visa are not new, as members still benefit from visa facilities and services despite the political uncertainties of recent years.
What is new, however, is to be able to benefit from these advantages when buying a property in full ownership in Thailand.
This type of offer responds to a growing demand from people wishing to live all or part of the year in Thailand and could develop in the coming years, the visa is often a problem for some, especially for people not wishing to work and under 50 years old.
Frequently Asked Questions
Who is this offer for?
Anyone wishing to make a real estate investment of quality and enjoy a very long-term visa to live all or part of the year in Thailand.
People under 50 years wishing to reside in Thailand, or people over 50 years tired by the procedures of renewal and administrative justifications of the visa retirement.
Can someone in my family enjoy it?
Yes, it is possible to buy the apartment for two: it will be necessary to pay 500 000 additional baht for obtaining a second visa and services.
How does it go if I sell the apartment?
The visa is linked to the apartment, so if you resell the apartment, you transfer at the same time the visa and benefits, which can also be a good argument for resale.
Do I have to reside in the apartment to benefit from the visa?
No, you can rent the apartment and reside in another property. The promoter announces returns around 6% per year.
How long to obtain the visa?
The residence will be delivered in 2016, however, obtaining the visa is between 15 days and 1 month on average after booking the apartment.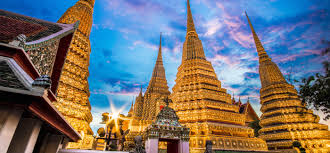 Bangkok
Bangkok, the Thai capital, is a vibrant city full of entertainment and attractions. The landscape is a wonderful tangle of temples like Wat Pho or Wat Traimit with their spectacular Buddhas, museums and modern buildings. We discover elsewhere the famous floating markets consisting of boats also serving as transport. Other surprises await the tourist to mention only the Bangkok Opera.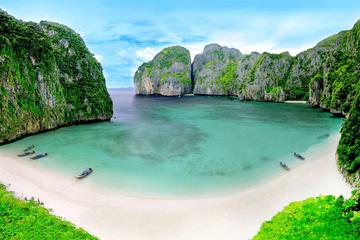 PHUKET
Decidedly when it comes to tourism, impossible to miss Phuket. It is the largest resort in the world, with an equatorial climate, sumptuous hotel structures and a warm welcome. Enjoy a laze in the sun while contemplating the turquoise sea, the horizon as far as the eye can see, while sipping a cocktail.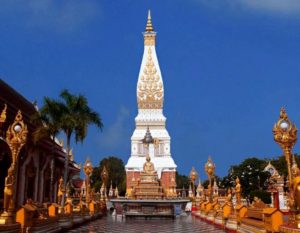 THAT PHANOM
That Phanom is a Thai province known for Buddhist temple named Wat Phra That Phanom. According to legend, the sternum of Buddha is in the heart of the temple. It was built in the 16th century by King Setthathirath of Lanxang. Nowadays, an annual festival honors the temple for a week.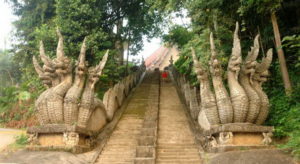 CHIANG SAEN
Chiang Saen is an area that appeared in 545 and was revealed by the founding of Chiang Rai City in the 13th century by King Meng Rai. Poppy cultivation and trade benefited the town and its development. Today, villagers are focusing on tobacco, tea and cabbage plantations. For visitors, Chiang Saen offers beautiful mountain landscapes, remnants of ancient settlements and some Buddhist shrines to visit.

CHIANG MAI
Chiang Mai is a place of preservation of Buddhist culture and religion. The secular temples abound and stand out from each other. The oldest are the Wat Chiang Man with crystal and marble buddhas, and others more picturesque like the all-wood temple of Wat Phra Singh. Chiang Mai is located 5 kilometers from Doi Suthep-Pui National Park.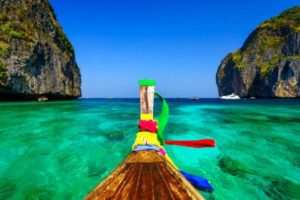 BAN BANG BAO
Ban Bang Bao is a fishing village located on Ko Chang Island. The houses are built on wooden stilts and connected by small footbridges offer a spectacular view of the sea. Fishing is the main economic pillar of Ban Bang Bao. Its culture and its food demonstrate it to us.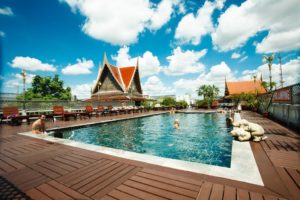 KANCHANABURI
Kanchanaburi is a city steeped in the history of the Second World War because of its bridge over the Kwai River. It was founded in 1942 by prisoners of war, under the command of Japanese troops. A monument and two museums tell us the story. Each year, a festival is organized to commemorate the construction and destruction of the point.
KAMPHAENG PHET
Kamphaeng Phet is a province whose main city bears the same name, which means ``Wall of Diamonds``. At the gates of this one, the forest shelters the historical park registered with UNESCO since 1991. The visitors can observe the vestiges of the past including the three Buddhas of Wat Pra Kaew with the foundation of the city in the 14th century by Li Thai, as well as its destruction by the Burmese people.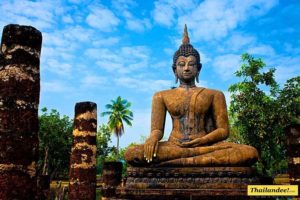 SUKHOTHAI
Commonly known as the ``city of happiness``, Sukhothai is steeped in history, with its hillside setting and many archaeological sites. Visit the remains of the past, mainly ruins of temples, Buddha statues, palaces; museums ; or the caves.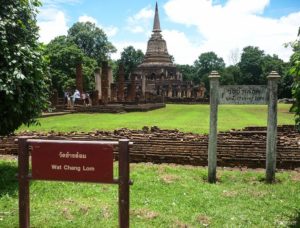 SI SATCHANALAI
Si Satchnalai Historical Park is a UNESCO World Heritage Site. This ancient city was colonized by the Thais in the 8th century. Arts and religions were very present in the foundation of Si Satchnalai. In the 16th century, the production of ceramics allowed the region to develop. Today, the site and its remains are in the forest. Many pottery artisans are present in the neighboring villages.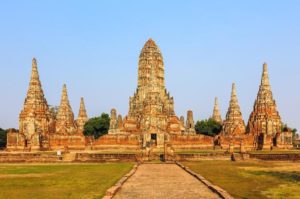 AYUTTHAYA
Ayutthaya is a new city following its destruction by the Burmese in 1569. The ancient capital founded by King Uthong in 1350 retains today the remains of its past. The Ayutthaya Historical Park is part of UNESCO World Heritage through the unique ruins of temples and sculptures.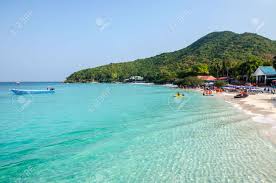 CHONBURI
Chonburi is one of the largest Thai ports. Many monuments come to testify of its economy like the lighthouse of the port or the houses of fishermen. The beautiful beaches allow to walk along the water. Around Chonburi, it is also possible to visit many temples.
When to go to Thailand?
the climate of Thailand varies significantly depending on the region visited. However, it is possible to distinguish two dominant seasons: a dry season, from December to April, and a monsoon season, from May to November. The temperature is around 39 ° C during the dry season and can go down to 13 ° C during cool periods. The best time for a trip to Thailand is between November and May. During this season, the rain is rather rare and the temperature more bearable. It should be noted, however, that the central and eastern part of the country is subjected to a fairly high temperature of up to 40 ° C during the dry season. The low tourist season is from July to October, the price is decreasing in all the centers of reception, however some islands remain closed during this period.
You will find below all the weather information on when to go in Thailand.
https://www.accuweather.com/en/th/thailand-weather
Travel Guide
Jetlag & Shift
shift
Thailand is at GMT + 7, that is: – in winter, there is a 6-hour gap with France (when it is 12:00 in Lourdes, it is 18:00 in Bangkok); – in summer, there is 5 hours of gap with France (when it is 12:00 in Lourdes, it is 17:00 in Bangkok).
Money
The national currency is the baht. Euros or US Dollars are exchanged at all banks and authorized exchange agents. The exchange rate of the euro is sometimes less advantageous in the provinces. The hotels levy a commission on the foreign exchange operations and do not always accept to change the traveler's checks. Most international bank cards (Visa, American Express, Mastercard, Diners …) are accepted by banks, hotels and restaurants, many shops. Vending machines allow withdrawals on the street at any time. Banks are open from Monday to Friday, from 8:30 to 15:30; Money-changers open until 20:00 or 22:00 every day.
Electricity
220 volts; various plug systems (European, US …). Take a "universal" adapter.
schedule
Shops generally open on a variable schedule from Monday to Friday; however, many stores are open 7 days a week (and 12 hours a day). Administrations are open from 8:30 to 16:30, Monday to Friday.
Media
The Thai press is of a great freedom of tone (in a rather strict framework however). One can get an idea of ​​it in two daily newspapers in English, The Nation and Bangkok Post. Radio stations are plethoric, especially local and musical. There are 6 national TV channels, plus regional and cable channels (of which we find TV5 without much difficulty). The foreign press is fairly widely distributed in major cities. The army, aware of the stakes in this area, controls more than 100 radio stations and 2 television channels.
Post Office
In the big cities, the post office is generally open from 8:00 to 17:30 (16:30 for small towns), from Monday to Friday. On Saturdays, offices open from 08:00 to 12:00; they are closed on Sundays. Effective staff and perfect organization. The central post office is open from 8 am to 6 pm, Monday to Friday, and on Saturday from 9 am to 1 pm. Price of a letter for Europe: about 10 baht.
Phone
To call Thailand from France, dial 00 + 66 + the area code without the 0 + the number of your correspondent. To call France from Thailand, dial 001 + 33 + your 9-digit correspondent number (without the initial 0). Numerous phone card booths in big cities (we buy the cards in post offices and small shops).
Internet
Cybercafés everywhere.
GSM coverage
Good coverage, except in remote and mountainous areas. We advise you to inquire of your operator on the conditions of access to the local network.
Currency
THB
Currency Rate
Estimated purchase price: 1 THB = 0.02892 Euros as of 10/07/2017 – Source: www.nationalchange.com
Want to know more about real estate investing in Thailand ?
Feel free to contact us, 21 home real estate agency, helena pires and their team will be happy to meet your needs and accompany you in your real estate project from the start to the end.
Do you want to buy a property in Thailand?
Contact us on 0033 (0) 624 713 315 or via e-mail